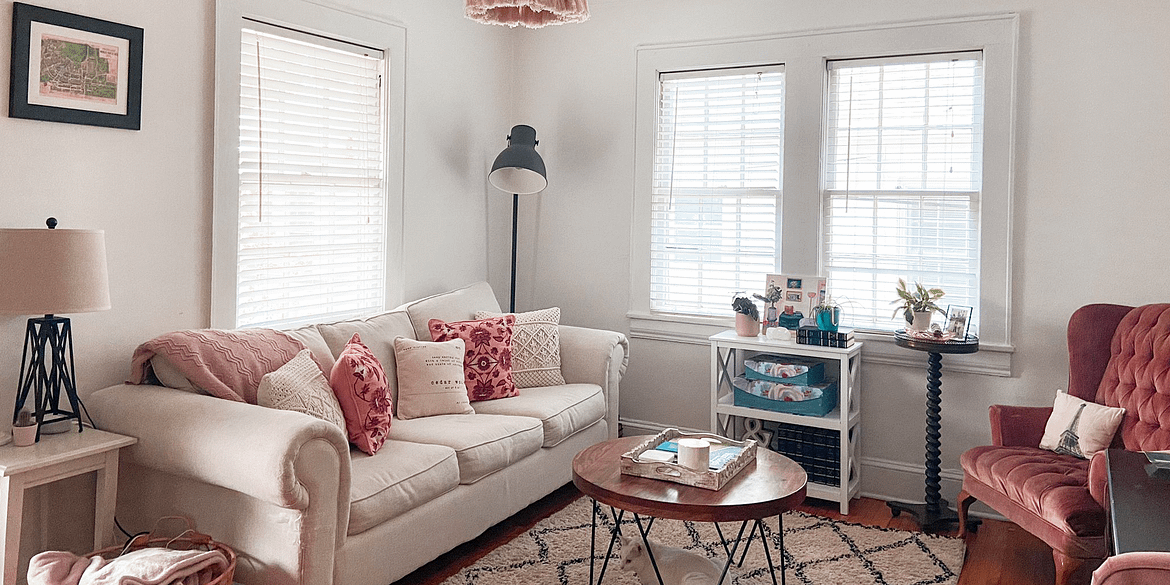 Crisp white walls, natural light pouring in from open balcony windows into a cozy flat, nestled on the left bank, with fresh baguette smells wafting through the rooms. The Parisian home – I can feel it now. Not all of us are lucky enough to live in Paris, but that shouldn't stop us from recreating this iconic feel in our own spaces. With my tips for creating a Parisian home wherever you live, you may just feel like the Seine, Lauderée macarons, and the Eiffel Tower are mere steps away.
White walls
Nothing says Parisian flat quite like white walls. They are the perfect canvas for creating your dream space. The light bounces off of white walls in ways that will open up even the tiniest of rooms. In my own home, I use Valspar's Bistro White to get the perfect French look.
Gilded mirrors
You've seen them – the marble mantelpieces and the ornate gold gilded mirror sitting gracefully above. They add elegance to any space, and they're useful in making small spaces, like the typical Parisian flat, appear larger. The Primrose Mirror from Anthropologie is a favorite where I live, but I have spotted several at antique markets in many cities I have visited.
Fresh-cut flowers
"I must have flowers, always, and always." – Claude Monet
The famous French-impressionist understands this one perhaps better than anyone. There is something magical about fresh-cut flowers in a home. Start with a clear vase and head to your local market. The French love peonies and tulips, but any flowers that you feel drawn to will do. So fill your home with flowers – always and always.
Artwork
From L'Orangerie to the Louvre, Paris is famous for its beautiful museums, and the French appreciate art quite unlike any other culture. Art is at the center of French history, culture, and architecture – an entire society nearly built upon its love of beauty. So it is no surprise that Parisian flats are filled with art. The white walls create the perfect canvas for your favorite pieces. Use gold frames to match your gilded mirror. Layer pieces on the floor for that effortlessly chic look. (Matisse, Monet, original oil portraits)
Hardwood floors
If you're fortunate enough to customize the architectural details of your home, go ahead and add hardwood floors to your list. While any hardwood floors will give you that Parisian feel, oak hardwood floors laid in a herringbone pattern will take it to the next level. Top with a modern black and white rug, or an antique Persian rug to cozy up your space.
Cesca chairs and tulip table
These are on my wish list! Every Parisian It-Girl knows that their stylish, Instagramable flat wouldn't be complete without these Mid-Century Modern icons. And the tulip table is a perfect spot for your fresh-cut flowers.
Velvet statement furniture pieces
The trick to getting Parisian decor right is to seamlessly mix the old with the new, just like the city itself. A velvet couch or armchair can add to traditional decor or go perfectly with a boho vibe. It is all about mixing it up to match your personal style – effortlessly of course. (Rust, green, or mauve.)
Books, books, books
Almost as much as they love their art, the French love their books. A typical Parisian flat could easily pass for a library with its ceiling to floor shelving and classic off-white books. Ikea Billy shelving is an affordable way to get this classic look.
Outdoor space with plants
Our list wouldn't be complete without mentioning the iconic Parisian balcony. The ornate ironwork, the views of the rooftops and chimney pots, sounds of Frenchmen on scooters below… Okay, so maybe your place is like mine and doesn't overlook the Seine, but who says we can't bring that vibe to our own outdoor space?! Whether you have an outdoor patio, garden, or balcony, you can easily transform it with just a few pieces. Opt for a round marble top table, a couple of rattan bistro chairs, an assortment of outdoor plants in terra-cotta pots, and you have yourself a little Parisian café space to enjoy your morning French-press coffee and fresh croissant.
"rien ne vaut son chez-soi" – there's no place like home